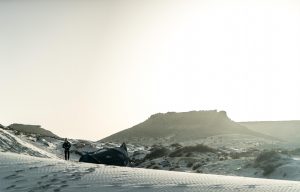 Marocco!! What did this country and culture surprised me.. I've been here several times, but only stayed in a resort for a competition. Now I got invited to drive through the desert and stay there overnight. Traveling in no-mans-land, with only 1 car, a tent, some food and your kite gear. It was amazing!!
Our first stop was at a little fishermen's town called Chica. You could smell the rotten fish when we jumped out of the car. The view was stunning, hundreds of little fishermen boats were spread out over the beach. A couple of good breaks on both sides of the bay got us excited for our first session. We were about to rig up – Roderick on his 9m Swell and Jalou on her 7m Pivot -, when the police showed up. Unfortunately, the officer didn't give us permission to enter the water due to safety reasons with the fishermen. So, we decided to hit to road once again and continued our journey into the undiscovered.
Another twenty minutes drive brought us to an unknown spot. We left the highway straight into the dessert, a bumpy and dusty road brought us to our second kite location. This time without any trouble of police or military. We rigged up and got the desert dust from our boards.
The waves were a little bumpy, but there were some solid overhead-size waves. The wind was pretty onshore which made it challenging.
The conditions weren't the best that session. However, we absolutely did not mind about the conditions as it was such a unique experience. Having a session with the two of us at a new and unknown spot. As we did not get a taste of the good 'Moroccan' conditions, it kept us eager for the next session.
The day flew by and the sun was about to set, so we had to think about a camping place. We found a perfect place, sheltered from the wind, to set up our tents and cook a traditional tajine. The men were in charge of preparing dinner.. so the ladies were satisfied and enjoying the sunset. Slowly but surely the stars and the moon started popping out.
After the Tajine cooked for over an hour, we had a food-dinner and had a good laugh around the bonfire. Looking at the stars while being together with your beloved one and sitting in front of a bonfire brought smiles to our faces and we felt like kings in the dessert. We felt asleep with the beautiful sound of the ocean and the wind circling around our tents.
As the sun rises on the horizon we started waking up slowly with a magnificent view, a sunrise in the dessert is something worth seeing. How beautiful the sunrise was, how shocked we were by the trash on the beach.
We noticed the ridiculously amount of trash covering the beach as far as our eyes could reach, it made us feel sad and with only the six of us cleaning it would still not be enough. As we travel the world from north to south and left to right we see many beaches covered by plastic and trash. Unfortunately, many people do not realise that if you throw something on the street, there's a 80% chance it will end up in the ocean. We do see the results of that and that's something hard to accept if we get back home and see someone throwing single-used plastic on the street.
Though, how hard it was to witness we had to continue our journey.
Our journey continued, we set course into a northerly direction heading for a more known spot called; 'Lasarga'. Which is, in our opinion, comparable with Pacasmayo in Peru, but then a right-hander.
When we got there we could already see waves peeling from the outside, wind was blowing in a side off direction. A little scream of excitement escaped from our mouths. We rigged up as fast as possible Roderick on his 9m Peterlynn Swell and Jalou on her 7m Naish Slash. We enjoyed the 500m long wave over and over again for more then 2,5 hours. Our fuel was running out after hours on the water and so did the waves.
This session made us realise that Morocco is an insanely good and undiscovered place, also for wave riding.
After our sessions and a post-session beer, we laughed at each other and without saying anything we knew that we'll be back!!!